In 2005-2006 I had the experience of a lifetime: I deployed to Iraq as an Infantry company commander.
There is no more ultimate test of a man's mettle than how he will perform in combat, and I had the opportunity to not only test my own resolve but to lead a hundred-plus Soldiers in the process.
Despite the difficulty of being separated from my wife, it's been one of the most valuable experiences of my life thus far.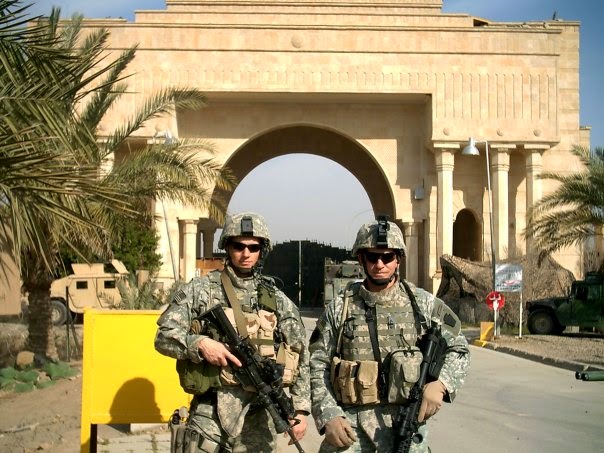 Camp Blue Diamond, Ar Ramadi, Iraq, 2006
The passing of eight years since that mission has afforded me the benefit of hindsight.

I've spent many hours replaying decisions I made over there, analyzing how I could have reacted better in a variety of situations.

I'm actually pretty critical of myself, while at the same time remembering that I had many years less experience and wisdom back then.

The important things are that we accomplished our mission and everyone came home alive, although I attribute the latter to the grace of God and not to my tactical competence.
Prepared and Positioned
I admit that I've seen the VeggieTales Esther movie enough times to have much of it memorized, even the "puppies" song.

The real story of Queen Esther is evidence that there is a method to God's "madness."

Esther was made queen in an incredible series of events and ultimately was in a position to save her people in a time of crisis.

She was prepared and positioned for "such a time as this."
"Mordecai sent this reply to Esther: "Don't think for a moment that because you're in the palace you will escape when all other Jews are killed. If you keep quiet at a time like this, deliverance and relief for the Jews will arise from some other place, but you and your relatives will die. Who knows if perhaps you were made queen for just such a time as this?" (Esther 4:13, 14 NLT)
God prepared and positioned me for my deployment, as well.

I realized it to a lesser degree even then, but in the years since I've gained a better appreciation of how events and opportunities unfolded beforehand to position me for "such a time as this."
I wondered at times if my first deployment was to be the culmination of my career.

I mean, how could it get much better?

Or, even scarier still, was it the culmination of my life?

But I think it's pretty short sighted to think that was all God had planned, and the years since have proven this true.
For reasons only He knows, I am in the midst of another time "such as this." While I would have chosen another deployment over leukemia any day, I cannot deny the good that He has done through my sickness.

Even though God didn't cause this, He knew it would happen and resolved to bring good from it.

It's not a stretch to see His hand in shaping me for this in the preceding years.

To be where I am now is miraculous.

Today is my fourth day of the latest round of chemotherapy.

My skin GVHD is acting up, but so far isn't too bad.

Overall, I feel well and have been working.

The future is bright.
Faith, then Action
What did Esther do when her time came?

She trusted God with her life and took action.

It's no more complicated than that.

Your "time" probably won't include saving a race of people.

Hopefully it won't involve cancer.

But we were made for a purpose and achieving that purpose requires faith and action.

Faith, then action.
The same applies to me.
Too often I find myself feeling like my life is on hold, that it cannot start again until after this round of chemo is complete, or after I can run again, or maybe when I can stop wearing this darn mask.
But the time is now.
God has prepared me—and you—for the season of life that we're in now.
Trusting and loving Him in this moment is exactly where we need to be.